Bright Blue Ink was founded in Austin, Texas, in 2013 under the company name Bumperactive.com — "Bumper Stickers for Activists," get it?

The original, four team-member printshop began with the vision of providing a service-oriented, high-tech, low-cost campaign merch solution for Progressive candidates and causes in a manner in keeping with the Movement's values.
In our first year, we launched the Texas Democrats Webstore, the first Democratic state-party online store in America. Today, Bright Blue Ink administers the official webstores of 38 state Democratic parties (Our Clients).
​
During the 2020 campaign cycle, we had the enormous honor of administering the Biden / Harris webstore, shipping more than 962,000 orders over the cycle — with more than 678,000 of those shipping between August and November.
Concurrently, we administered the webstores for 14 Democratic presidential primary candidates, five governor candidates, 25 U.S. Senate candidates and 37 U.S. House candidates.
wE'VE GROWN TREMENDOUSLY BY REMAINING TRUE TO OUR FOUNDING VISION. jUST LIKE THAT TINY PRINTSHOP EIGHT YEARS AGO:
Service Is OUR Top Priority
It all starts with the veteran political operatives and activists on our client accounts team:
We hire experienced campaigners and train them how to do merch (and not the other way around). We know the only way to truly understand the unique pressures and demands of campaign life is through first-hand experience.
Your dedicated account rep is your liaison to ensure that every project meets the precise needs of your campaign, and that no detail gets lost along the way.
​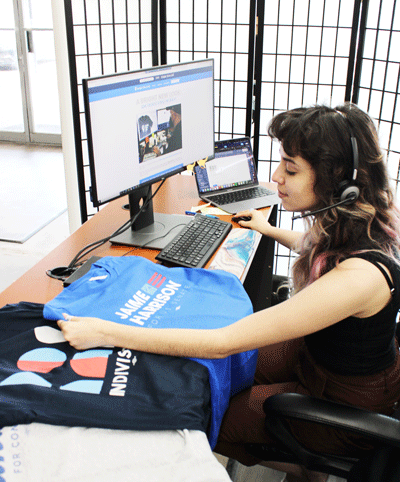 We're the wholly integrated solution
Webstore build-out, graphic design, printing, fulfillment, customer service: We do it all under one roof.

Our wholly integrated capability eliminates the added costs and delays that are drawbacks of the traditional "broker model," which relies on coordinating the services of third-party vendors.
All Bright Blue Ink non-administrative divisions are included in our collective bargaining unit. This includes the fulfillment team, whose work is the most labor-intensive part of e-commerce.
​
At Bright Blue Ink, everyone has union job security, access to affordable healthcare, and a safe and supportive work environment.
​